---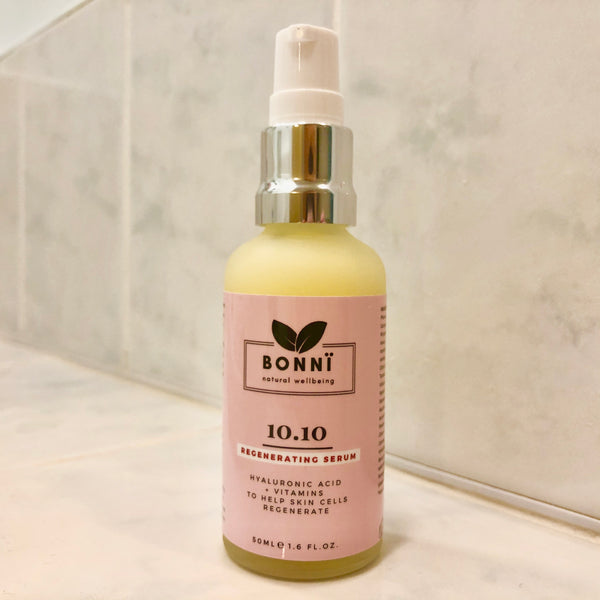 **£10 TRIAL OFFER NOT VALID WITH EXTRA MONTHLY SUBSCRIPTION DISCOUNT. INVALID ORDERS WILL BE CANCELLED**

Now Re-stocked: Our Super Popular 10.10 All-In-One Regenerating Serum! 💚
Our luxurious regenerating serum is the ultimate go-to for brighter, clearer, and fresher looking skin. 
Being rich in hyaluronic acid + vitamin C + vitamin A + vitamin E its active ingredients regenerate, plump and tighten skin, helping to reduce the appearance of fine lines, wrinkles and blemishes, naturally. 
It deeply hydrates without leaving the skin oily.
As busy Mums, we've been working on creating one clean skincare product that does it all. 
Now, with our 10.10 All-In-One Regenerating Skin Serum you can look good, be healthy and feel amazing, without the extra time it takes using multiple different products. 
It's literally all you need for rejuvenated, plumper and tighter skin. 
Because of this, it also helps the environment by reducing the number of products being produced.
Did we mention that our 10.10 Regenerating Skin Serum is made using only ingredients that are:

✅ Sustainable 
✅ Natural
✅ Toxin-Free
✅ Vegan
✅ Suitable for Sensitive Skin
We have a limited amount of all-in-one sustainable regenerating skin serums available in this re-stock because they're made in small batches to ensure maximum freshness and product lifetime. 
So if you don't want to miss out on your all-in-one clean beauty serum we recommend you get yours now.
Made in Britain 🇬🇧
Comes in a Glass Container
Ingredients: 
Aqua, Glycerine (Veg), Phenoxyethanol, Ethylhexylglycerin, Carbomer, Aloe Barbadensis (Aloe Vera), Polysorbate 20, Sodium Hydroxide, Pyrus malus, Citrus medica limonum, Vaccinium myrtillus, Saccharum officinarum, Vitis vinifera, Propylene Glycol, Lactic acid, Citric acid, Glycolic acid, Malic acid, Tartaric acid, Helianthus Annuus (Carrot Infusion), Tocopherol (Vitamin E), Sodium Hyaluronate (Hyaluronic Acid), Retinyl Palmitate (Vitamin A palmitate), Sodium Ascorbyl Phosphate (Vitamin C), Citrus Aurantium Dulcis (Orange) Peel Oil, Foeniculum Vulgare Dulce (Fennel) Oil, Citrus Grandis (Grapefruit) Essential oil, Cananga Odorata (Ylang Ylang) Flower Oil, Anisaldehyde (p-methoxybenzaldehyde)*, Benzyl alcohol*, Benzyl benzoate*, Benzyl salicylate*, Citral*, Estragole*, Eugenol*, Farnesol*, Geraniol*, Isoeugenol*, Limonene*, Linalool*.
*Naturally occurring in essential oils
Quantity: 50ml